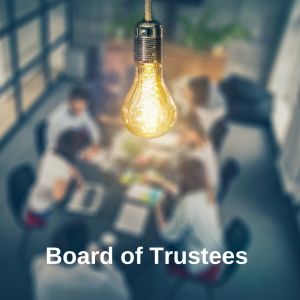 Mission Statement of the Guilderland Public Library
The mission of the Guilderland Public Library is to provide equal access to materials, programs and services to our community for lifelong learning, cultural enrichment, and enjoyment. – Adopted September 12, 1989; Re-adopted August 13, 1998; Revised July 13, 2006; Adopted April 28, 2022
The Board of Trustees is the governing organization of the Library. These officials set policy and ensure that the Library is responsive to the public's needs. They are elected by the public and serve five-year terms.
Serving the community as a board member is an important job, as State Librarian Janet Welch wrote in her preface to the Handbook for Library Trustees of New York State (2000): "A good public library benefits and serves the entire community. [Trustees] make policy and fiscal decisions crucial to the life and direction of the library. Their decisions impact the lives of people and the future of their community. Library trustees are responsible to the library and to the public it serves and must be tireless advocates for improving library services."
Serving as a board member includes many challenges, but great rewards as well. If you are interested in learning about becoming a board member, please don't hesitate to contact current Board Members (listed below) or the Library Director, Tim Wiles, at 456-2400 x 113. Information packets and petitions for prospective trustees are available every March at the Library and the Guilderland School District Office. Elections are held every May, concurrently with the budget votes for the School District and Library District.
2023 Budget and Board Candidate Vote