GPL hires from the Albany County Civil Service list. For listings of current open positions in Albany County, please visit the
Albany County Department of Civil Service.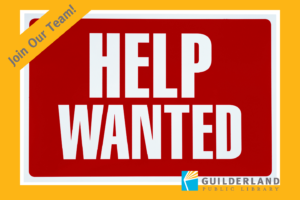 HIRING: Full-Time / Part-Time maintenance staff
Shifts include day/evening and weekend hours. Custodians are responsible for maintaining the cleanliness of a building and the surrounding grounds. The duties may include vacuuming floors, sanitizing restroom facilities and collecting trash to ensure the building's occupants have a clean space.
Minimum Qualification: Working knowledge of building cleaning practices, supplies and equipment; ability to follow simple oral and written instructions; willingness to perform routine cleaning and other manual tasks; ability to get along well with others; thoroughness; dependability; good physical condition. Good benefits, including New York State retirement.
Please contact Lew Warner with interest:
warnerl@guilderlandlibrary.org
518.456.2400 ext. 120
9.13.22