The Guilderland Public Library Board of Trustees currently has three open seats, and five candidates.  Per Executive Order, these positions will be voted upon June 9, 2020.  While we await further election details, it is our understanding that this election will be conducted via U.S. Mail.  We will provide more information as it becomes available; please watch your mailboxes.
Here is the information we have received from five candidates – Marcia Alazraki, Herbert Hennings, Mark Keeling, Philip Metzger, Richard Rubin – listed in the order they will appear on the ballot:
MARCIA ALAZRAKI
Background
Grew up in New York City
Guilderland resident for 52 years
Education
Bachelor of Arts in English and Education, Summa cum Laude, University of Albany
Juris Doctorate, Albany Law School
Professional Experience
Deputy Superintendent of Insurance
Assistant Counsel to the Governor of the State of New York
Private practice attorney for 35 years, advising clients on insurance regulatory matters and acquisition of insurance companies
Retired
Community Involvement
Secretary / Treasurer – Girls Inc. Board of Trustees Foundation Trust of Schenectady
Volunteer – Jewish Federation of Northeastern NY
Ms. Alazraki's Statement:
I was brought up in a poor family in New York City.  Purchasing books was not part of my family's budget.  My library card was precious and books opened up the world to me and shaped my devotion to learning.  Guilderland Public Library is very important to me.  I love the feel of it, the quiet hominess, the wonderfully attentive and knowledgeable staff, the ability to sit and read in a comfortable and welcoming space.  I would be honored to serve on the library board so that I may contribute to its mission and help continue its service to our community.  In this way, I can show my gratitude to libraries and pass on the gifts they have given me.
HERBERT HENNINGS
Background
Grew up in Long Island
Guilderland resident for 34 years
Education
Bachelor of Arts in Political Science, cum laude, Kenyon College
Master of Arts in Political Science, University at Albany
Professional Experience
Insurance Fund Representative II, New York State Insurance Fund for 35 years – represented NYSIF at Workers Compensation board hearings
Retired
Community Involvement
Vice-President, Guilderland Public Library Board of Trustees
Board Member, Upper Hudson Library System
Member, Guilderland Planning Board
Committee Member, Guilderland & Albany County Democratic Committees
Member, PEF Retirees; former member PEF Executive Board
President, Troy Area Labor Council
Executive Board Member, Capital District Area Labor Federation
Mr. Hennings' Statement:
I am interested in becoming a candidate for the Guilderland Public Library Board of Trustees because I want to continue my work for the Library and on the Board of the Upper Hudson Library System. I have lobbied the legislature for increased funding for local libraries, both construction aid and general aid. I have worked with other board members on the Guilderland Public Library construction project and want to follow through on this. I am presently vice-president of the Library Board and have served on the Personnel & Policy Committees. I want to work to make the Guilderland Public Library a true center of the community and increase programs and outreach to the community.
MARK KEELING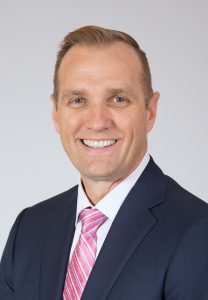 Background
Grew up in Phoenix, Arizona
Served in the U.S. Army 14 years
Guilderland resident since 2011
Education
Undergraduate:  St. Leo University
Graduate:  Bethel University
Professional Experience
Vice President with a national insurance company
Community Involvement
Guilderland Public Library – Board of Trustees
Mr. Keeling's Statement:
I feel the library has an important part in the community.  It is a place to gather, provide children's programs, support community initiatives and in the current environment also provide virtual resources.  During my current tenure on the Board of Trustees we have been involved with the effective and important decisions as it pertains to a more virtual version of the library.  It is important that the library remain fiscally responsible and at the same time provide robust resources for our community.  By being elected to serve on the Board of Trustees again,  I hope that I can help continue the tradition but also provide insight and direction for future growth.
PHILIP METZGER

Background
Grew up in Long Island, lived in Texas
Guilderland resident for 7 years
Professional Experience
Lead Systems Analyst, RR Donnelly – manage IT projects finding efficiencies and alternative solutions to fulfill the print needs of businesses worldwide
Community Involvement
Guilderland Public Library – Board of Trustees
Mr. Metzger's Statement:
Having an inside connection to the world of libraries, I have become acutely aware of their importance in our society and I understand their needs and challenges in our current environment. By running for the Library Board of Trustees, I hope to support the library administration in setting goals that build a stronger community in Guilderland centered around our library, providing the services that drive even more people to take advantage of everything that the library offers.
RICHARD RUBIN
Background
Grew up in Monticello, NY
Guilderland resident for 23 years
Education
Bachelor of Arts in Industrial Psychology, University of Rochester
Master of Business Administration in Health Care Management, Boston University
Medical Doctor degree, State University of New York Upstate Medical University
Professional Experience
Clinical Geriatrics Physician with Eddy Senior Care
Former Primary Care Internal Medicine physician
Former Medical Director of St. Mary's Hospital, Troy
Community Involvement
Daughters of Sarah Nursing Center – Board of Directors
University of Rochester – volunteer interviewer
Normanskill Strummers ukulele group
Dr. Rubin's Statement:
I am seeking a position on the board for three primary reasons.  First, although it sounds cliche'd, I very much want to pay it forward for the benefits the library affords me and my family. I gain so much from the library through borrowing all sorts of things, attending wonderful programs, etc., and this is a way for me to contribute.  Second, I hope that the library would benefit from my medical knowledge and experience in planning programs and other innovative ways to serve the community.  Lastly, I have a graduate business degree and am comfortable with institutional budgets and the challenges of maintaining services at a time of increasing costs and decreasing revenues.  We have an AMAZING library, and I want to be part of making it even better!  Thank you for considering me for this position.
Updated 5.7.2020 – LMN